Performance
"Wisdom is always an over match for strength." – Phaedrus

Our flagship product is our proprietary predictive data analytics known as SiAlpha™ – Systematic Intelligent Alpha (out-performance). SiAlpha™ helps our clients generate above market returns with below market risk.
The analytics combine proprietary mathematical models (algorithms) for real-time investment valuation and risk management to evaluate and identify low risk-to-reward opportunities in responsible publicly listed companies.
SiAlpha™ effectiveness has been demonstrated by the outstanding results it has achieved over a five-year period; earning an average 37.2% net average annual return on investment and growing an original $100,000 investment to $698,450, compared to an equivalent investment in the S&P 500 Index growing to only $184,638; a seven times better return!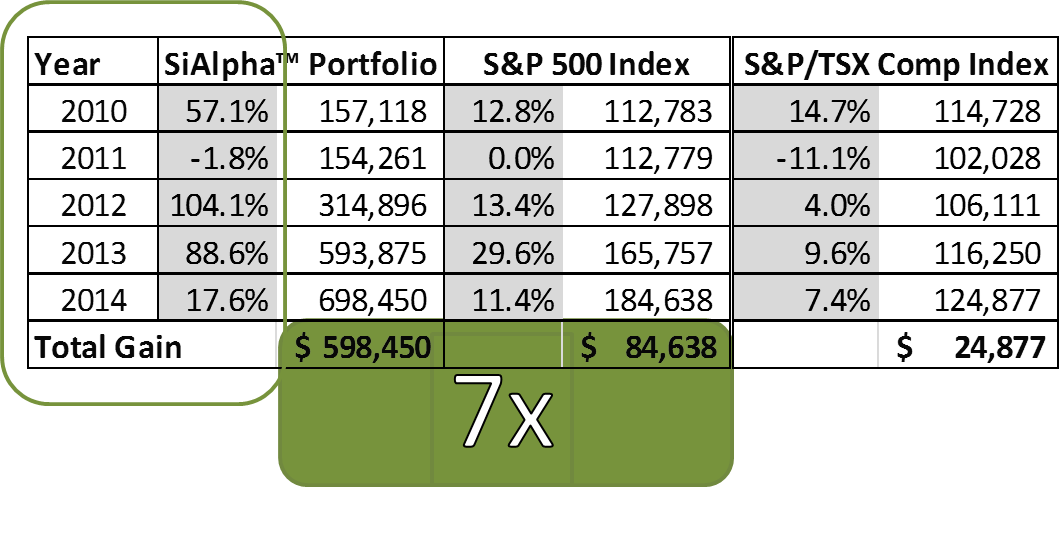 Not only did SiAlpha™ generate strong out-performance (alpha) but did so in a highly effective risk-adjusted manner over the five-year period. For example, the SiAlpha™ portfolio last year out-performed the S&P TSX Index by over 137% with a 17.6% return compared to a 7.4% return for the index and did so with a significantly better Sharpe Ratio of 3.66 compared to 0.92 for the index.
Detail risk analysis is for calendar year 2014 is provided below:
Access to the SiAlpha™ system is available via research subscription service for individual investors and financial advisers in North America. To learn more, as well as view detailed monthly performance and risk analysis for the whole five-year period, please visit SiAlpha.com
Past performance is not indicative of future results. Please read our full disclaimer.